Throughout October, school districts, early care and education sites, farmers and organizations across the state participated in Farm to School Month! Leaders in the Farm to School movement across PA celebrated PA Preferred Days, Apple Crunch, and National Farmer's Day.
Here's a roundup of highlights…
The Frankford branch of the Yellow Breeches Educational Center procured locally raised beef, vegetables and fruit for the 11th and 12th grade students. Together the students prepared a beef and vegetable stew and froze it. The following week on a 4-day camping trip to Ohiopyle they heated up the soup over the fire and roasted acorn squash and used them as edible bowls for the hearty stew!
Avonworth School District provided their local favorites including: Nardone Stuffed Crust Pizza from Hanover, Lancaster Hummus w/ Flatbread Wedges, Clarion River Organics Roasted Beet & Spicy Jalapeno Salad, Peterson Apple Slices & Applesauce from Dauberville, and Schneider's Dairy Milk Selections from Pittsburgh.
Browns ChildCare celebrated farm to Early Care and Education during their preschool programming by updating the farm fresh produce stand, filling their bookshelf with farm to ECE books, growing tomatoes and lettuce inside, and providing lots of local produce for meals, snacks and taste tests!
Donegal School District hosted a district wide serving approximately 2000 students lunch with all PA featured products.
Dover area School District celebrated Farm to School Month for a full week featuring a menu filled with foods grown and processed in the Keystone State and flavors that are uniquely Pennsylvanian. 
North Hills School District featured local honeycrisp apples from Soergel's orchards as well as local squash and zucchini in a pasta salad that was served throughout the school district to all students during lunch.
Penn State PRO Wellness visited Steelton-Highspire Elementary in Steelton for "Apple Crunch" on October 21. This Healthy Champions signature event encouraged youth and families to eat apples and apple products (applesauce, juice and cider) as healthy snacks. Enjoy apples at home with this heart-healthy apple pie recipe.
Saint Clair Elementary and Middle School served fresh local golden delicious apples from Hess Farm and offered samples of apple cider from a local roadside farm stand. Along with offering an assortment of fresh food in their daily salad bar – popular with faculty, staff and students, they also had coloring activities for kids featuring pumpkin and sunflowers.
Southern York County School District students visited their local farms and learned about the fruits, vegetables, dairy and meat they produce. Elementary students were able to taste local honey, apples and tri colored cauliflower while secondary level students had a chef prepared meal of local pork glazed with local honey topped with apple chutney, sweet potato puree and tri colored cauliflower and Romanesco.
The Food Trust partnered with local Philadelphia chef's, artists, and authors to host three virtual events made available to classrooms across the city. Ms. Clarissa of Black Plant Moms shared a video of her experience visiting Milburn Orchards, her local apple orchard, read "Apples" by Gail Gibbons, demonstrated how to make apple cider.  Ms. Bakir Scott, of Zoe's Kiddie Catering shared some spooky-themed fun and tasty meal ideas through a virtual cooking demonstration. Author Stacey Woodsen MS, RD, LDN hosted a virtual book reading of Grow. Eat. Repeat. one of the many books from her Delicious and Nutrition Book series.
Hempfield High School recognized their regular local food vendors, serving crimson crisp, honey crisp, & golden delicious apples from Kauffman's Orchard in Bird in Hand and Beef BBQ sliders sourced from Cedar Meadow Meats in Elverson.
PA Friends of Agriculture Foundation and The GIANT Company unveiled the PA Farms to Families Immersion Lab On National Farmers Day, October 12. The lab showcases a hydroponic greenhouse, a mushroom farm, a swine operation and a dairy farm and yogurt processor, to educate visitors about production and environmental practices that bring foods from field to plate. The immersion lab will hit the road this fall, visiting school and community events across Pennsylvania! Read more here.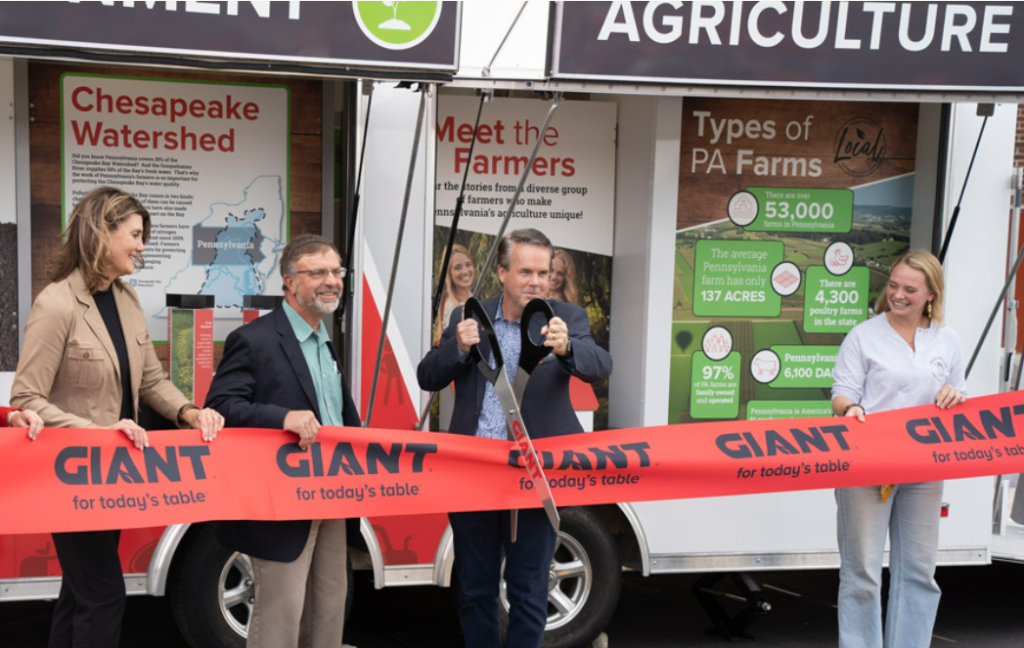 How were these farm to school activities received? 
"Parents commented that they loved how things were local and as we are a rural district with many farmers and a large FFA student body this was great promotion." – Laurel School District
"Students really enjoyed it all! We have moved some of these items into our rotating cycle for the rest of the year." – Donegal School District
"We look forward to this becoming an annual event every October in our district and expanding some of our ideas next school year." – North Hills School District
Celebrating farm to school programming recognizes and supports local producers, raises awareness and brings nutritious farm fresh food directly to kids across Pennsylvania. Thank you to everyone who participated in October.
Let's continue to support farm to school programming throughout the year!